Exploring the relationship between women's football and the insurance industry captures the evolving understanding of risk, the role of technology and data, and the necessity of insurance to a maturing sport. But more importantly, it unveils another essential aspect – that insurers need a deep understanding of the specific challenges faced by women in the game and an appreciation of the differences in risk exposures between women's and men's football.
For the insurance industry, the professionalization of the women's game has brought deeper interest and involvement as safeguarding the health and wellbeing of players, as well as ensuring the financial stability of clubs, has become paramount.
Insuring a growing game
The first recorded professional women's football matches took place in the 1890s after which it grew in popularity, being played in front of crowds of thousands until a five-decade ban was imposed by the UK's Football Association (FA) in 1921 on the grounds of "unsuitability". Women's football returned to stadiums in the 1970s, but it is in more recent years – much like the Lionesses at the Euros last year – that it has roared onto our screens as tens of thousands of people fill stadiums for big games around the world.
The sums of money involved in the game have now significantly increased. As the importance of players protecting their earnings and clubs protecting their investments has grown, the insurance industry's contribution to the game has closely shadowed its ascent. But the transition to a more established form of the game – characterized by increased viewers, more valuable media rights, and a global transfer market – has brought with it its own complications, challenges, and opportunities.
History of women's football
1890

First recorded professional women's football matches

1921

Professional women's football banned by the Football Association

1970

Women's football began to re-emerge

2023

Two billion people expected to watch the 2023 Women's World Cup in July
Understanding risks
and injuries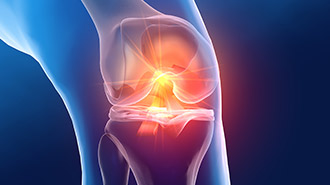 In the 2022/23 season of the Women's Super League more than 20 top female players tore their anterior cruciate ligament (ACL) and studies suggest women have three to six times higher risk of ACL injuries than men. Speaking to Dr Justin Hughes on the Sports Doctor podcast, Dr Pippa Bennett, ex-England football doctor and medical lead of Woman's Super League said this is potentially due to women moving, turning, and decelerating differently from men.
Without the same amounts of data collected over decades within the men's game, there is a shortage of comprehensive research in the women's game.
As more data on injuries women face is accumulated and our knowledge develops, it brings improvements to both player welfare and insurers' ability to accurately provide coverage. It also draws a distinction between the men's and women's game, directing both clubs and insurers away from assumptions based on the men's game and towards a more dedicated focus.
Data, technology,
and advancements in insurance
Hand in hand with the need to better understand the women's game is the role of data and technology. The increased use of data and technology in women's football can mitigate risks for players, drive advancements in the insurance industry, and ultimately make it easier to protect the wellbeing of players.
One key application in attempting to better understand injuries is the use of tracking devices. These help coaches and physios track all elements of a player's health and performance, highlighting when a player is most at risk and helping to avoid potential injuries.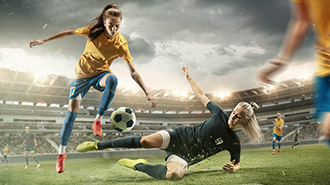 They also set out clear indicators that can be applied to younger players getting into the game. Analysis of data such as this has allowed sports manufacturers to develop a kit specifically designed for women with the objective of optimizing performance while reducing the risk of injury.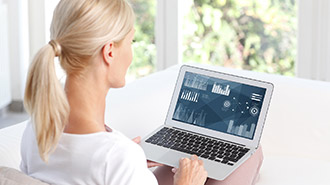 More detailed and available data has also become crucial as the game has gone global. Insurers generally monitor their total exposure by team due to the common risk of players traveling together but given the nature of football, players transfer between clubs so it can be hard to keep up with total exposure.
To manage this, insurers have been using application programming interfaces (APIs) to track transfers of players between individual clubs and when players are selected to participate in national or international teams.
Behind the data and at the heart of the game is human risk, and there's still a way to go for the levels of research and data-led risk insight in the women's game to reach the same levels as other sports. Better use of data and analytics will help underwriters to identify patterns and assess risk factors, allowing them to develop tailored coverage that caters to the unique needs of players in the evolving game.
Staying ahead of the curve
As research and data catch up, it is our job as insurers to use what we have at our disposal to stay ahead of the curve and make sure that our policies are fit for purpose.
One example is maternity cover. The FA only made it mandatory to include it in players' contracts in 2022 – a decision that came after players called for measures that make them feel more secure and are tailored to the specific demands of being a woman athlete.
As insurers, we follow this example by going back to basics, dealing with known risk, and building relationships that cater specifically to the needs of customers. We work closely with clubs, unions, and players to make sure our policies are fit for purpose now and as the game evolves.
In a profession that can be cut short all too easily by injury, ensuring we get pricing and coverage right, provide value, and ultimately give athletes the security and peace of mind they need is fundamental.
Keeping an eye on the World Cup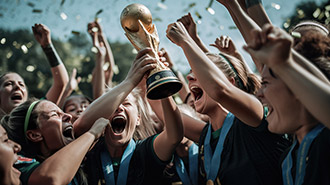 The rise of women's football underlines the increasing importance of insurance in protecting the game and its players. As we witness the ninth edition of the FIFA Women's World Cup and the evolution of the sport, it is crucial for insurers to collaborate closely with brokers, players, and clubs to ensure women's coverage gets the specialist coverage and the attention it deserves.
By adapting policies to keep up with the changing landscape of the game, enhancing our use of data and technology to understand and mitigate risks, and providing personalized coverage options, we can contribute significantly to the progress of women's football.
Our team at AXIS will be following the World Cup closely with a keen eye on how we can best play our role in enabling the clubs and players to excel on and off the field.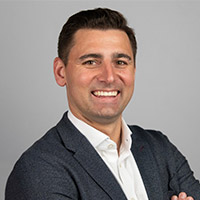 Guy Bonwick
Guy Bonwick is Head of International Accident & Health at AXIS and is based in London.
The team writes a book of general accident; health and travel; professional sports, marine and aviation personal accident; and loss of license across the world. Before joining the insurance industry, Guy was a professional footballer at Ipswich Town Football Club before subsequently being offered a scholarship to Loughborough University where he achieved a BSc in Management Sciences.
1 https://www.statista.com/statistics/1386733/womens-world-cup-total-tv-viewership/
2 https://www.boa.ac.uk/resource/how-to-tackle-the-increased-rate-of-acl-injuries-in-women-s-football.html
3 https://www.thesportdoctor.com/ - podcast, episode 4
4 https://news.sky.com/story/bras-boots-and-balls-why-womens-football-kit-could-be-causing-injury-12748664
5 https://insuranceday.maritimeintelligence.informa.com/ID1143023/Viewpoint-World-Cup-fever-in-the-London-market
6 https://www.skysports.com/football/news/12040/12526791/womens-football-fa-and-pfa-agree-changes-to-contracts-to-include-maternity-and-long-term-sickness-cover